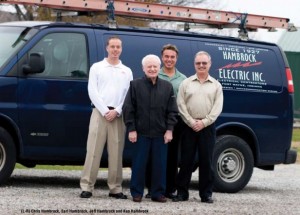 According to the University of North Carolina at Asheville's Family Business Forum, only three percent of all family businesses operate beyond the fourth generation. Hambrock Electric Inc. of Fort Wayne is proud to be a family owned business operating at the fourth generation now, with plans to expand the company and reach the 100-year mark and beyond with the fifth generation. Their secret? Persevering during the tough times and building solid business relationships.
The company specializes in commercial, industrial and retail design/build projects. "We provide power distribution, building lighting, parking lot lighting, backup generators and a certified turnkey structured cabling for networking, voice systems and fire alarms. Plus, we offer maintenance after the projects are complete," says Vice President Jeff Hambrock.
Jeff's grandfather, 82-year-old Earl Hambrock, proudly claims that his dad (and the company's founder), Carl W. Hambrock, would "turn over in his grave to see what this company has done." That is because when Carl opened his Electric Shop in Fort Wayne in 1927, he was the only employee except for the help he received from his sons, Earl and Bill.
Earl remembers working for his dad when he was in sixth grade, helping him wire houses. Back then, projects were mostly "small stuff," he says, "such as service work and some commercial clients, but most were residential, with some dairies. Everything was manual labor."
In 1948 Earl and Bill took over the business. It was not long before they established a relationship with their first major client, Rogers Markets Inc., Fort Wayne's then-dominant grocery store chain. "We did a lot of work for Rogers, such as new builds, remodels and maintenance," Earl says. Their clientele also included the original Fort Wayne National Bank downtown, Corning Glass in Bluffton, Kerr Glass in Dunkirk and Lutheran Homes in Fort Wayne.
Earl's son, Ken, followed his father's example and became involved in the family business at an early age. "Starting when I was 14, I went to work during my summer vacation," says Ken, who is now president of the company. "You start at the bottom and work up. And in those days, we didn't have trenchers, so everything was handdug. I dug a lot of trenches."
After graduating from high school, Ken went through four years of electrician apprenticeship training. From there he worked in the field, running jobs and doing service work. Then he learned the estimation part of the business and how to manage people so he could understand
the whole process. In 1980 he purchased the company from his dad. (His Uncle Bill passed away in 1966.)
In his first year of ownership, Ken was the only employee, just like his grandfather Carl was. "I realized there was not much future in that," he says. "So after that year, I decided I needed to grow the company by increasing sales and adding employees."
Ten years passed before he had gained enough business to hire an employee to answer the phone and do other office duties so he and his wife, Judy, who worked with the books and answered the phone, could get some time away from the everyday pressure of running the business. At one point, the company was up to 35 employees. It maintained the Rogers Markets account and in the 1980s, it developed relationships with two more major clients, Scott's Foods and France Stone/Hanson Aggregates. For a while, the company maintained a good working relationship with both Rogers Markets and Scott's Foods. In 1991, SuperValu acquired Scott's Foods and a few years later it acquired Rogers Markets.
"Our company was able to continue a good relationship with SuperValu through all those changes," Ken says.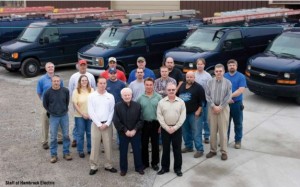 Along the way, Ken's sons, Jeff and Chris, learned the trade. Although 9/11 hurt the commercial industry, and Hambrock's employee base dropped to 18, the Hambrocks kept plugging away. "We maintained most of the existing customers and established relationships with new customers to start the rebuilding process over again, only this time with help from Jeff and Chris," explains Ken. Perseverance and time have proven to build not only customers but also employees—currently, Hambrock Electric has 28 employees.
There also have been dramatic changes in the company's equipment. "After working in the field for more than 15 years and struggling with not having nice tools, I started buying them," Ken says with a grin. "We currently operate thirteen service vehicles, along with many scissor lifts, trenchers, a bucket truck, cranes, hydraulic pipe benders, electric benders and an auger truck. We have virtually every tool that is available to make the company competitive in today's market place."
The company started doing many design/build projects while Jeff and Chris were working in the field, but it got more involved in its own computer-aided design (CAD) drawings when Jeff began working in the office. While Jeff and Chris each own just 18 percent of the company, as vice presidents, they have essentially been running the business for the last two years, developing contacts with new clients Ken never had and emulating what he taught them about relationships.
"We are maintenance- and relationshipdriven," says Ken. "Several of our clients trust us enough that we do all their electrical maintenance, along with any new construction they may need done."Adds Jeff, "We want our customers to be happy with the products they receive and to feel that we have provided them with professional service at a good price."
"I think what makes us stand out from other contractors is our pride in what we do, and it shows in our workmanship and employees," says Chris. "What I like best about our business is the challenge of working with our customers to design a project to meet their needs for today but at the same time, allow for future expansion. This type of design saves our customers money today, as well as in the future and gives us a great feeling of accomplishment. The best compliment of all is to have the customer call us back to do more work."
Article by: Susan Souder
Photos: TK Herman